Want to become a Rocket League great? Mechanical gaming skills are not enough. You need to sort out your camera settings as well. Well, you probably have been trying to for a while.
Not to worry, we have the best solution for you. A gift of Amustycow camera settings. Using this template should help you get your settings right and become a champ.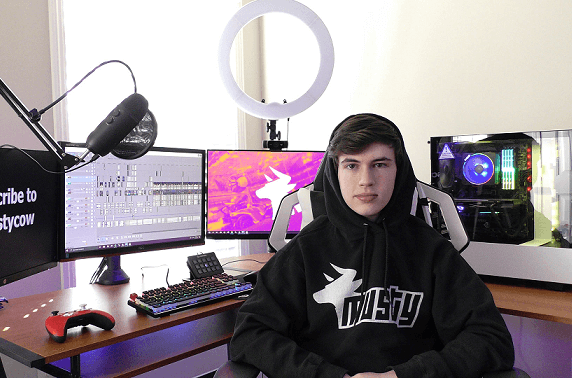 Amustycow Camera Settings (Updated)
The top players are constantly working to improve their camera settings. This goes a long way to show that getting your camera settings right is important. Amustycow has used so many settings for his camera.
However, we have gotten his latest settings and we thought it will be nice to share. You can use this as a template to work on your camera settings. Soon, you'll be a mini-RLC god.
Camera shake – No
FOV – 100
Distance – 270
Height – 90
Angle – -4.0
Stiffness – 0.35
Swivel Speed – 7.30
Transition Speed – 1.30
Ball cam – Toggle
Does this look like what you are using? If there are any differences, you can tweak your settings. By the way, you can hit us up when you notice that he has new settings to keep us updated. Now to some comparisons.
Amustycow's Camera Settings vs. Experts' Opinion
Listening to the experts is great as they always have a formula for success. But sometimes, these formulas don't work for everyone. It means that you need to discover what works for you.
This is exactly the case with top players in the RLC like Amustycow. Many of them have a few deviations from the norm. Let's check to see if Amustycow has made any deviations.
Camera swivel speed – This value affects the speed at which your camera tracks your car when it makes a turn. There are no specific suggestions for this feature so players use their discretion. However, many of the top players agree that the default setting of 2.5 is fine. Most of them use values between 1.0 and 10.0. Amustycow's setting falls within this range as he uses 7.30.
Camera stiffness – The default value for this setting is 0. It determines the looseness of your camera as it turns with your car. Leaving it at 0 gives you smooth turns which is good. But the pros want great so they raise the value a little, even up to 1.0. This allows to camera focus to lock on the car. Amustycow prefers to use 0.35, disagreeing with the norm.
Camera angle – This value determines the angle at which the game cam focuses on your car. The default value is -3 and many players prefer to stick with this. It gives great results for conservative players. Adventurous players prefer to raise the bar and get to -5. Let's say Amustycow is right in the middle as he uses -4.0.
More about Amustycow
It seems Amustycow likes to lead a private life. Not much about him is online except the fact that he is a Rocket League Player. He also runs a YouTube channel to share secrets about playing Rocket League. Once we get more information about him, we'll share it here first.