Water softeners are no doubt useful in homes around hard water region thus making it an important gadget for people leaving in a hard water environment because of their effect in removing minerals from municipal and well water as well as saving important appliances like dishwasher, clothing washer, toilets and other household utensils and appliances that are fragile and easily damaged by hard water. 
Furthermore, water softener unilaterally makes hard water feel good as well as safe for use. However, the salt usage for a water softener is ultimately dependent on the level of water hardness as well as the number of people in a household, and the rate of water consumption in a particular household.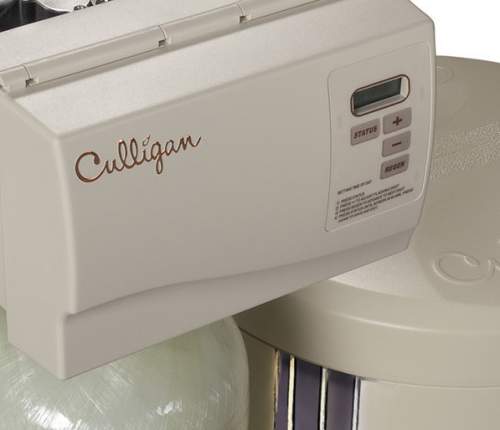 Furthermore, Culligan is one of the topmost manufacturers of water softeners and they even go as far as to providing water softener services; hence, they do not just sell the products they also provide the needed services. However, depending on the need of your household or personal requirements we have outlined how you can set the salt dosage of your Culligan water softener.
Culligan Water Softener Best Settings
Step 1
Tap the set up/ the enter key on the control panel of your Culligan water softener gadget and when you do the first settings that will pop up on your LED screen is TOD which ultimately means Time of the Day settings.
Step 2
Press the set up or enter key of your Culligan water softener to scroll through the options on the menu list and you have to keep scrolling until you come across SLtP. The screen is then expected to show for two seconds before displaying the default measurement or the measurement set previously either by you or by the firm providing you installation services. 
It is however important to note that it indicates salt dosage in pounds; however, water softener set to metric measurement will ultimately show SLtG for a total of two seconds before displaying its dosage in a kilogram.
Step 3
At this point, all you need to do is to press the plus or minus button on the control panel of your Culligan water softener and then adjust the salt dosage up or down. Hence, if your water is not soft enough it is expected that you adjust it to a higher number and if your water is too soft all that is required of you is to adjust it to a lower number.
Step 4
When you have achieved the salt dosage of your preference either by increasing the dosage or by reducing it then you are expected to save the settings. To save the settings all you need to do is to press the status button on the control panel of your Culligan water softener and when this is done, continue to scroll through the menu items until you witness a blank Led screen thus indicating that your settings have been saved.
Step 5
When you have saved your settings, the next thing is to exit the programming mode and all you need to do to achieve that is to press the status key once more.