If you don't want all your data wiped away in the blink of an eye but still want to stream videos from Apple Music or the iTunes Store, then Apple's new feature might be just what you need.
They included a new quality setting to their Videos app for iOS 10, which lets you control how much data you use for streams, albeit giving up some quality. To access it, all you need to do is open the 'Settings app and scroll down to the "Videos" option.
It is recommended to set the playback quality when using mobile data to "Good" to save data volume.
How to Change Video Playback Settings on iPhone
So, step by step:
Go to the Home screen and tap 'Videos.'

Scroll and tap the video you want to stream

Turn your phone sideways to stream the video

Tap the screen to access the control panel.
Adjust the audio settings on iPhone
Go to Settings > Accessibility > Audio/Visual.
Adjust any of the following:
Mono Audio: Turn on to combine the left and right channels to play the same

Balance: Drag the Left-Right Stereo Balance slider.
Why Are Videos Not Playing on my iPhone, and How do I Fix It?
While it's not that common, sometimes your iPhone can malfunction. Some iPhone users, including iPhone X/XS (Max)/XR users, have complained that videos are not playing on their iPhone models somehow. If that's your case, it may be due to some of these reasons:
The video file may not be compatible with your iPhone, or you may have poor/no internet connection. Here, we'll show you some tips to try and fix the most common issues with iPhone's video streaming:
Force Quit the Video App
Most people save their videos on the 'Videos' app, so it's only natural to think that there's where you'll play your videos from. However, the App may be stuck at some point due to other tasks.
If that's your case, then all you need to do is double-press the 'Home' button and choose the app, and then swipe up to close it. Then, open the app again and try playing your videos again.
Re-Install or Update the Video App
As you may know by now, you can also choose to use different video streaming apps. So, they'll let you uninstall the app if it's giving you trouble so that you can re-install it from the Apple Store.
That way, all old files and caches will be deleted, and it'll e like starting from scratch. Also, hitting the Apple Store may show you that the app needs to be updated, which will fix most bugs the developer finds in the previous versions.
Make Sure Your Internet Connection Works
Nowadays, we all rather stream videos instead of downloading them and filling up our devices with huge files. For that, we need to have a steady internet connection.
So, if you're looking to check whether your internet connection works, all you need to do is try and browse and load any website you want. Also, consider that the bandwidth of your connection will be vital to stream videos, especially in High Quality.
Convert Your Videos
If you downloaded a video from an official website, the chances are that it may not have the proper format for your iPhone. Therefore, the device won't be able to play the video regardless of your internet connection or whether you uninstall and reinstall the app.
In this case, all you need to do is convert the video to a format that's compatible with iPhone and then send it back to your device. You can access multiple video converters in the Apple Store that have already been tested and approved by Apple developers.
Update the OS on iPhone
You may also be a victim of an outdated Operative System on your iPhone. If that's the case, all you need to do is go to the Apple Store and download the latest version of the iOS.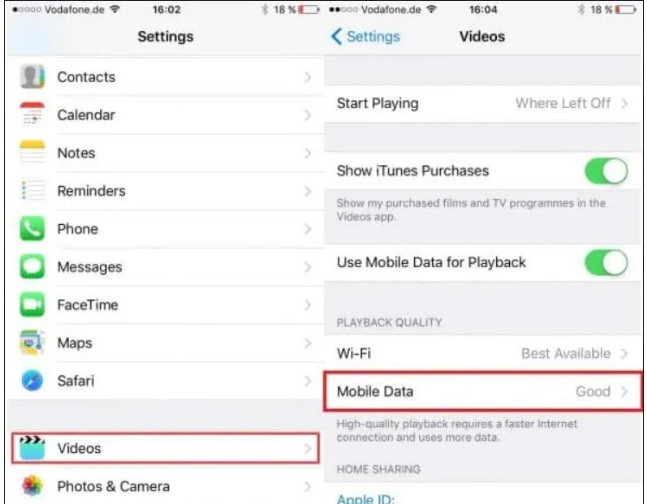 How Can I Adjust TV App Streaming Quality Settings on My iPhone?
If you're an Apple TV+ subscriber or have ever rented or purchased movies via iTunes, you can stream them using mobile data or Wi-Fi, thanks to the Apple TV app.
Whether you're using your iPad or iPhone, you'll be able to control the streaming quality of the TV app in both mobile data and Wi-Fi, an excellent feature for those without an unlimited streaming plan or a limited bandwidth. If that's your case, follow these easy steps to get everything set up:
Note: You'll need to have iOS 13.4 or newer.
Adjust Streaming Quality Using Mobile Data
Go to Settings

Select 'TV'.

Go to Streaming Options, then to 'Mobile Data'

Select 'High Quality' or Data Saver.
Adjust Streaming Quality Using Wi-Fi
Go to Settings

Select 'TV'.

Go to Streaming Options, then to 'Wi-Fi.'

Select 'High Quality' or Data Saver.
Please note that High Quality allows HDR video streaming, which consumes more data, while Data Saver limits streaming up to 1 GB per hour.
Which video player is best for iPhone?
Here are some options:
PlayerXtreme Media Player

KMPlayer

OPlayer Lite

Infuse 6

VLC For Mobile

8Player

MPlayer Lite.
Does iPhone have a video player?
Although your iPhone and iPad have a default built-in video player, they can only do so much. For instance, it cannot play a wide variety of formats or support features such as optimized subtitles.
How do you increase video playback on iPhone?
The play speed controls can be found on the right-hand side. If you don't see the playback speed and other options, tap the video to bring up the onscreen controls. Tap the '+' icon in a circle to speed up the video or the '-' icon in a circle to slow it down.
Where is video playback in settings on iPhone?
Go to your Settings app and scroll down to the "Videos" option. You now have the possibility to choose your desired playback quality.
How do I screen record on my iPhone?
Go to Settings

Tap on Control Center, then tap. Next to Screen Recording.

Wait for the three-second countdown.

To stop recording, open Control Center, tap. or the red status bar at the top of the screen, and then tap Stop.
What is the default iOS video player?
VLC has been a popular open-source app on the desktop, capable of playing a wide range of media formats at high resolutions, making Apple's standard iTunes video player.
How does VLC work on iPhone?
Just like it does on your computer, VLC for iOS can stream movies and TV shows in most formats without needing a converter. You can also sync media to your iPhone using Cloud services, iTunes, WiFi Upload, or via Web.
How do I view only Videos on my iPhone?
Open the Photos app as you would to look at anything taken with the iOS Camera, then choose the "Albums" option. If it's not already displayed, select the back button to return to the primary "Albums" section. Locate and choose "Videos" to view only the videos taken with the iPhone camera.
Where are playback settings on iPhone?
Using the playback controls in the Control Center or on the Lock screen

Swipe up from the bottom of any Home or app screen to open the Control Center.

Wake your iPhone by pressing the Home button or Sleep/Wake button and adjust the playback controls.
Why won't videos play on my iPhone?
Frequently, you may find your videos play without a problem on your Android phone or other mobile devices, but your iPhone won't play the videos, or the files won't show up on your iPhone. The most probable cause is that the videos are in formats that are unrecognized by your iPhone.
Can't Play Videos on your iPhone?
Perform a Reboot. Various indescribable problems can be solved with a simple reboot.

Repair Corrupted/Damaged Video. For some unknown reasons, your video may be corrupted or damaged.

Free up iPhone Memory.

Clear App Caches/Cookies/History/Data.

Update or Reinstall Apps.

Restore to Factory Settings.
Can iPhone play MP4?
Yes, iPhone supports the MP4 video format, so you won't need to go through a converter or re-encode these videos. For the most part, Apple's native Video app will work with these files, both on your desktop computer, laptop, or iPhone.
Final Words
Playback is an iOS app created by MultiTracks.com that turns your iPad or iPhone into a simple but powerful sequence player for all your Original Sequences and CustomMix content. The playback comes with a library of metronomes and will always give you access to a free song every week that we call the "Song of the Week" so you can try the app right away. Playback has 3 Subscriptions: Intro (free), Pro, and Premium (30-day Free Trial).