Kephrii is getting a lot of traction on Twitch lately. Interestingly, we have collected all Overwatch settings of Kephrii and details about his gaming rig and peripherals. In this post, we will be going to share it with you.
Although we know him as Kephrii, his birth name is actually Brian St. Pierre. He was born on March 18, 1994, in the USA. And, he was born and raised in the Northern VA / DC area.
Initially, he was an Intelligence Analyst for the military. After serving for 4.5 years, he back out.
At the moment, he is a full-time streamer on Twitch. Normally, he used to play Valorant, Apex Legends, WoW, and other similar competitive games. However, he is most famous for his breathtaking Widowmaker play in Overwatch.
Nowadays, you will find him playing Overwatch most of the time. He might not be a professional gamer.
But he has garnered a huge fan base with his charming personality and top-notch gameplay. Because of this, everybody is looking for Kephrii Widowmaker settings.
So, let's get down to business…
Kephrii Widowmaker Settings
Kephrii has specific settings for Widowmaker. And he has been using the same settings for a long time. Here are the Kephrii Widowmaker settings for you.
Sensitivity: 00
Invert Look: Off
Horizontal Sensitivity: 30
Vertical Sensitivity: 15
Reticle Type: Crosshairs
Allied Health Bars: Off
Show Friendly Outlines: Default
Toggle Zoom: Off
Relative Aim Sensitivity While Zoomed: 00
Grappling Hook Sensitivity: 40
Recoil Recovery Aim Compensation: On
Kephrii Overwatch Settings
At the moment, you know the Widowmaker settings of Kephrii. However, without knowing his overall Overwatch settings, you will not be able to make the most of it. So, in this section, we will talk about Kephrii's Overwatch settings.
Kephrii Overwatch Mouse Sensitivity Settings
DPI: 400
Sensitivity: 8
eDPI: 3400
Polling Rate: 1000 Hz
cm/360:30
Kephrii Overwatch Video Settings
The video settings in Overwatch are a lot to cover. As a result, we will split this into 2 parts. Let's go…
Part #1
Display Mode: Fullscreen
Target Display: Monitor 1
Resolution: 1920 x 1080 (240)
Field of View: 103
Aspect Ratio: 16:9
VSync: Off
Triple Buffering: Off
Reduce Buffering: Off
Display Performance Stats: On
NVIDIA Reflex: Disabled
Flash Indicator: Off
Display System Clock: On
Limit FPS: Custom
Frame Rate Cap: 400
Graphics Quality: Low
Gamma Correction: a bit less than the middle
Contrast: 4I: In the middle of the bar
Brightness: slightly less than the middle
Part #2
Render Scale: 100%
Texture Quality: Low
Texture Filtering Quality: Low-1X
Local Fog Detail: Low
Dynamic Reflections: Off
Shadow Detail: Off
Model Detail: Low
Effects Detail: Low
Lighting Quality: Low
Antialiasing Quality: Off
Refraction Quality: Low
Screenshot Quality: 1 x Resolution
Local Reflections: Off
Ambient Occlusion: Off
Damage FX: Default
Kephrii Overwatch Audio Settings
Master Volume: 100
Sound Effects Volume: 100
Music Volume: 0
In-Game Voice Volume: 100
Voice Chat Volume: 100
Voice Chat Mic Volume: 100
Subtitles: None
Sound Plays While in Background: On
Group Voice Chat: On
Team Voice Chat: Auto Join
Match Voice Chat: Off
Voice Chat Mode: Push To Talk
Voice Chat Device: Default Devices
Playback Device: Default
Dolby Atmos For Headphones: Off
Kephrii Overwatch Crosshairs Settings
Type: Crosshairs
Center Gap: 6
Show Accuracy: Off
Opacity: 100
Color: Blue
Outline Opacity: 50
Thickness: 1
Dot Size: 5
Crosshair Length: 12
Dot Opacity: 0
Scale With Resolution: On
Kephrii Overwatch Control Settings
Mouse
Sensitivity: 00
Invert Look: Off
Controller
Horizontal Sensititivty: 30
Vertical Sensitivity: 15
Reticle
Hero
Allied Health bars: Default
Show Friendly Outlines: Default
Kephrii Overwatch Gameplay Settings
Always Skip Kill Cam: Off
Kill Feed Display: On
Achievement Display: Neither
Network Quality Notifications: Off
Limit Client Send Rate: Off
Limit Server Send Rate: Off
Tips Display: Off
Use Simple 3P Spectator Camera: On
Show Capture Play of The Game UI: Off
Overwatch League Score Spoilers: Off
Waypoint Opacity: 0%
Respawn Icon Opacity: 0%
Player Outline Strength: 100
Enable Voice Line While Spectating: Off
Enable Workshop Inspector: Off
Enable Workshop Inspector Log File: Off
Enable Post Match Auto Queue: On
Enable High Precision Mouse Input: Off
Snap Death Camera to Killer: Off
Kephrii Overwatch Extra Settings
Ashe Scope Sensitivity: 65
Ana Scope Sensitivity: 35
Widowmaker Scope Sensitivity: 35
Widowmaker Hook Sensitivity: 40
Recoil Recovery Aim Compensation: On
High Precision Mouse Input: Off
Zoom Preference: Hold, Not Toggle
Kephrii Overwatch Gaming Peripherals
Are you still with us? Then you already know all about Kephrii's Overwatch and Widowmaker settings. In this part of the post, we will talk about his gaming peripherals. Honestly, Kephrii has a mighty gaming rig. And, his streaming setup is also top-class. So, let's learn more about it…
Monitor
Kephrii is currently using 3 different monitors for different purposes. Here's more on this…
Right now, he is using the ASUS ROG Swift PG259QN monitor as his gaming monitor. It is a beast of a monitor. Because it comes with a whopping 360 Hz refresh rate and only 1 ms response time, some of the notable features are G-Sync, Eye-care, HDR10, low blue light filter, flicker-free technology, and more.
This is the world's first 360 Hz refresh rate monitor. It is a 24.5-inch monitor with a screen resolution of 1920 x 1080p. You will find HDMI (v2.0), DisplayPort (1.4), and USB ports at the back of the monitor. If you have the budget, you can definitely go with this.
Kephrii is using this monitor for stream chat and internet browsing. This is also from Asus, and it is a 27-inch gaming monitor. It has a screen resolution of 2560 x 1440. It comes with an IPS display.
The monitor has a 165 Hz refresh rate and a 4 ms response time. You will find DisplayPort 1.2, HDMI 1.4, and 2 x USB 3.0 ports at the back. It is a great monitor, even for gaming. But for streaming, it is overkill, honestly.
On the other hand, Kephrii is using the BenQ ZOWIE XL2411P monitor for OBS/Spotify. This is a 24-inch monitor with a refresh rate of 144 Hz and a response time of 1 ms. This is also another 1080p monitor.
It comes with Black eQualizer, Color Vibrance, flicker-free, etc., technology. It also has multiple connectivity options such as DisplayPort, Dual-Link DVI-D to reach 144Hz, HDMI, and Headphone/Microphone Jack input.
Mouse
Interestingly, even though Kephrii has an overkill setup, he uses a very generic mouse. At the moment, he is using the ROG Gladius 1 mouse. According to him, he started using it and got used to it. As a result, he is not changing or upgrading his mouse. In his words, 'if it ain't broke, then don't fix it.
The ROG Gladius 1 mouse is a wired mouse with up to 6400 DPI. It comes with a 2-meter braided cable and 1-meter regular rubber USB cable. It has Japanese-made Omron switches. It weighs only 116 grams.
Mousepad
Artisan Ninja FX Hien Soft XL
Kephrii is using the Artisan Ninja FX Hien Soft XL mousepad. It is available in a few colors. And he is using the wine red color. The XL size measures 49.0(W) x 42.0(L) x 4(H) mm. It is made with knitted polyester cloth. The middle layer of the mousepad is made with 4 mm single foam of a special type. So it is comfortable as well.
Keyboard
Kephrii is using another top-rated keyboard among gamers and streamers. At the moment, he owns the SteelSeries Apex PRO TKL keyboard. Yes, it is a 10 keyless keyboard. According to SteelSeries, this keyboard has the world's fastest mechanical switches. Speaking of switches, it comes with its own OmniPoint switches. You can actually customize the actuation distance from 0.4 to 3.6 mm on these switches.
The frame of the keyboard is made with aluminum for durability. In addition, it has an OLED smart display. You will be able to see many updates and information about your games, streaming, and chat applications directly on the keyboard.
At the same time, you can get information about the current model of the keyboard as well. There is a magnetic detachable wrist rest as well. It also comes with customizable RGB lighting. Kephrii is using the Razer Doubleshot PBT (Black and Pink) keycaps in this keyboard.
Headset
Turtle Beach Elite Atlas Aero
The headset is another place where Kephrii gone wild with his Elite Atlas Aero from Turtle Beach. This is a premium gaming headset with a lot of high-end features. This wireless headset has 30+ hours of battery backup.
It has Grammy® Award-winning Waves audio technology and a highly-functional software suite access. You will get the headset, wireless USB transmitter, removable microphone, USB chagrin cable, and a 3.5 mm jack with inline mic.
Overall, this is a top-class headset for gaming, streaming, and video calling. It is equipped with 50 mm Nanoclear™ speakers with Neodymium magnets. The frequency response of this headset is 12 Hz to 20 kHz.
GPU
You can see that Kephrii is using the ultimate best GPU out there. It is challenging to get this GPU for the original price for the scalpers and stock shortage.
However, people are still buying this with a bit higher price tag. It can handle most games to the highest settings and higher resolution than ever. So it is undoubtedly a great choice if you have the budget.
Microphone
For the microphone, Kephrii is using the Electro-Voice RE20 broadcast announcer mic. This is available in gray and black color. It is a wired microphone with a frequency response of 18000 Hz and 150 Ohm impedance. The mic weighs only 1 lb.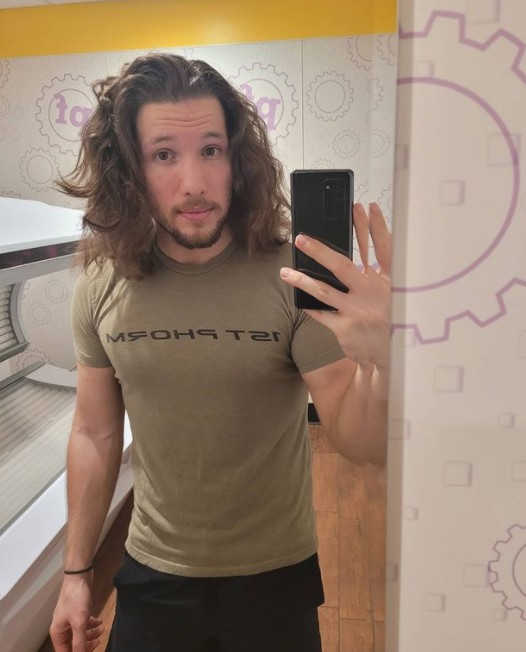 This is dynamic cardioid micro with studio condenser quality performance. It has a steel case and hum-backing coil for offering magnetic shielding against any line hum. It can be used for voice-over, streaming, podcast, radio, music production, audiobook narration, and even gaming. All in all, this is a professional quality microphone.
Wrap Up
Kephrii is a very down-to-earth person. He lost about 43 Kg or 95 Lbs. With this, he has become an inspiration to many people all around the globe. At the same time, his Widowmaker gameplays on Overwatch also making him popular gradually.
Nowadays, he is streaming on Twitch regularly. His Twitch account has over 569k followers. And his YouTube account has over 302 k subscribers.
He uploads his gameplay highlights on YouTube frequently. Brian is also available on Instagram, where you will find his cat's picture along with his gameplay bits and his own pictures. He has over 47k followers on Instagram.
You can also follow him on Twitter for all the latest updates. His Twitter account has over 65k followers at the moment of writing this post.
So, if you have found this post useful, don't forget to share this with others. And, if you have any suggestions or questions, you can drop us a line in the comments below!
More Posts for You: