FINVIZ is an online platform created for traders and investors who are looking for information about the stock market. It grants a trader the opportunity to be creative in forming new ideas by offering tools useful for trades and getting access to financial news, trade maps, charts, etc. The Finviz screener is a tool that enables a trader or investor to sift through stocks using different indicators as desired by them. Your search indicators can be based on parameters such as price, beta, pattern, market cap, sector, etc.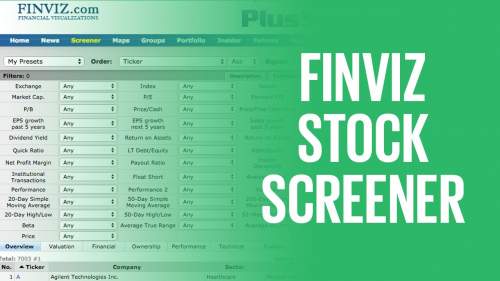 We have three main filters that can be used as indicators namely:
Descriptive filters include volume, industry, etc.
Fundamental filters such as price, cash, quick ratio, etc.
Technical filters include patterns, average, etc.
How FinViz Works
Open finviz

A homepage containing different charts, stock list, and technical indicators is opened

It automatically sifts a lot of its stock into lists based on different criteria 

Helps comparison of stocks individually, so allows speculation of the future worth of a stock
Settings for using Finviz screener
There is a filter option at the top of the screen

Click this, it allows you to create a long list of stocks and reduce it to a smaller more relatable list.

There are several filters that are capable of aiding in the building of one's stock list in different ways. For example, sorting by the stock exchange, index, sectors, and industry.

Narrow your view to the market and start trading as you feel comfortable 

You can sort using qualitative criteria such as price, price to earnings ratios, etc.

There are technical and fundamental analysis available on screener

Tabs such as valuation, financial, ownership, can be used to further narrow down your stock evaluations
Settings for using Finviz screener for forex
Navigate to the Finviz homepage

From the homepage, go to the forex trading page which is at the top of the screen

Once here commonly traded forex pairs list are displayed

These can be adjusted to display relationships over varying periods of time.

At the bottom of the page, there is a bar chart that aids in recognising each currency's one-day relative performance
Using the Screener
Open Finviz

Click on the screener option

Navigate to the technical tab 

Click it, multiple options are available from the drop-down menu

There is a signal filter on top

It scans for possible setups based on classic charting principles and performance indicators

There are different filters 

Look for 'change from open' and candlestick filter

Go through all the filters one by one

After applying a filter, switch your chart view

They are then visually displayed 

Then move on to the next filter 

Open a bigger chart 

Right-click the mini chart

Open it in a new tab so that you do not have to be moving back and forth

After scanning through all the stocks with all the filters 

Manually go through the futures, indices, and forex market.
Setting for using Finviz screener for Swing Trading Success
Navigate to the Finviz homepage

On the navigation bar look for the option for the Finviz screener at the top between 'news' at the right and the 'maps' option at the left

Click on the screener tab

You will be brought to a page where over seven thousand (7000) different symbols can be found

You can make the list smaller by setting different specific criteria to find stocks

Select the 'descriptive' tab and find the sector option in the drop-down menu

After selecting a specific filter option

Select charts tab

These will give you the charts that track the activity of different stocks that you filter through your criteria
Setting for using Finviz screener for spotting chart patterns
Select the technical tab so that all filters can be viewed

Select the type of trade pattern under the pattern drop-down menu

Right-click on any chart and choose the 'open in new tab' option
Essential FinViz Screener Metric settings used by Investors
1.Market Capitalization:
Specify minimum market cap, this sifts out small unpredictable companies and large rapidly-paced companies
2. Price
Eliminate stocks trading under ten dollars due to their volatile nature
3. Volume
Look for stocks trading with adequate trading volume to ensure the ease of buying and selling. Exclude stocks trading fewer than three hundred thousand shares per day
4. Past Performance
Set screening criteria to show stocks that rose five percent and higher during the past month. Set performance indicators for different time periods while still accounting for the current target market.
5. Price to Earning ratio (PE)
Comparison of price to earnings ratio between companies in the same industry is crucial due to the different risk zest. So the lower an industry price to earnings ratio the better, investor prefer single digits PE
6. Price to Earning to Growth ratio (PEG)
This accounts for growth and is an indicator of the future although the future can be unpredictable sometimes. The lower the PEG ratio the better
Best Finviz settings are relative by definition, they are a reflection of the current trading style.